THE OKI PRO9541WT, ONE PRINTER, A WORLD OF POSSIBILITIES FOR YOUR BUSINESS
The best of the past and the future
Combine the best of digital and analogue screen printing techniques using Hybrid Digital Screen Transfers to produce high quality and durable multi-colour designs that will impress your customers.
Faster and better for the environment
Make the production of digital screen printing stencils faster and easier with a chemical-free process that is kinder to the planet and your staff.
CMYK+White designs on SRA3 transfer media
Print high-quality CMYK+White designs on large SRA3 transfer media to get more designs onto a single sheet.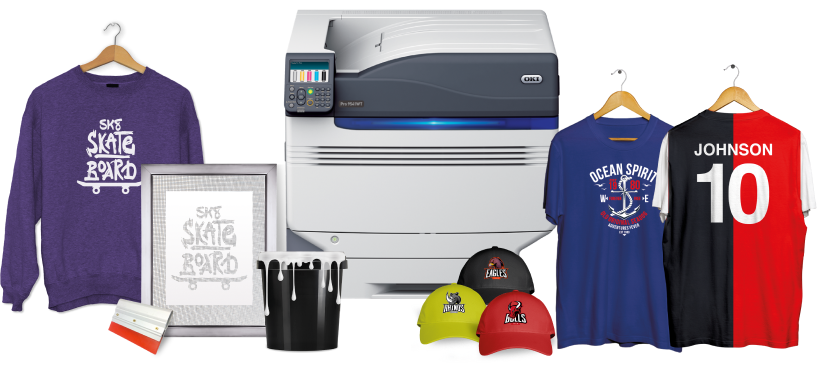 SEE IT IN ACTION: HYBRID DIGITAL SCREEN TRANSFER PROCESS
THE OKI PRO9541WT, AN IDEAL COMPLEMENT TO YOUR EXISTING PRINT TECHNOLOGY

The OKI Pro9541WT provides a cost-effective way to enter the lucrative hybrid digital screen print market.

Combine traditional screen printing with the latest in digital technology. Make a screen printing stencil in minutes and use just one to do full-colour designs.

Save time by not having to create colour separations and multiple screens, with the OKI Pro9541WT you can produce full colour with a single screen print.

OKI's 5 colour technology (CMYK+White) enables pure black and white printing with complete flexibility.

Going digital doesn't mean a compromise in quality, durability or wash resistance with the OKI Pro9541WT.

Create screen stencils fast and with an environmentally friendly, chemical-free process.

We know space is at a premium, the OKI Pro9541WT is surprisingly compact considering its capabilities and will complement your existing technology.

There's no need to worry about the need for special training, hit the ground running with the OKI Pro9541WT.

Buy with confidence knowing that the OKI Pro9541WT is certified compatible with industry leading media manufacturers.

The OKI Pro9541WT uses proven, robust technology, has low cleaning requirements and is backed by a 3 year guarantee for your peace of mind.
"Using OKI's White Toner Digital Transfer Media printers, we can customise anything for example, shopping bags and T-shirts, even in limited quantities, including individual items, which is impossible with other technologies."
Mario Bettucci, Owner, Promart Design
Please note, for information on specific media that should be used with OKI printers for the applications specified on this page, please contact your local certified dealer or contact us.
*Simply register your product within 30 days of purchase to be eligible for our unique all inclusive offer. For further information please visit: www.okieurope.com/warranty
Without registration, the standard pan-European 1 year warranty applies.