TAKE ADVANTAGE OF UNRIVALLED TRANSFER MEDIA FLEXIBILITY WITH OKI AND ITS TRANSFER MEDIA PARTNERS

Just a few surfaces you can transfer designs onto with the OKI Pro8432WT...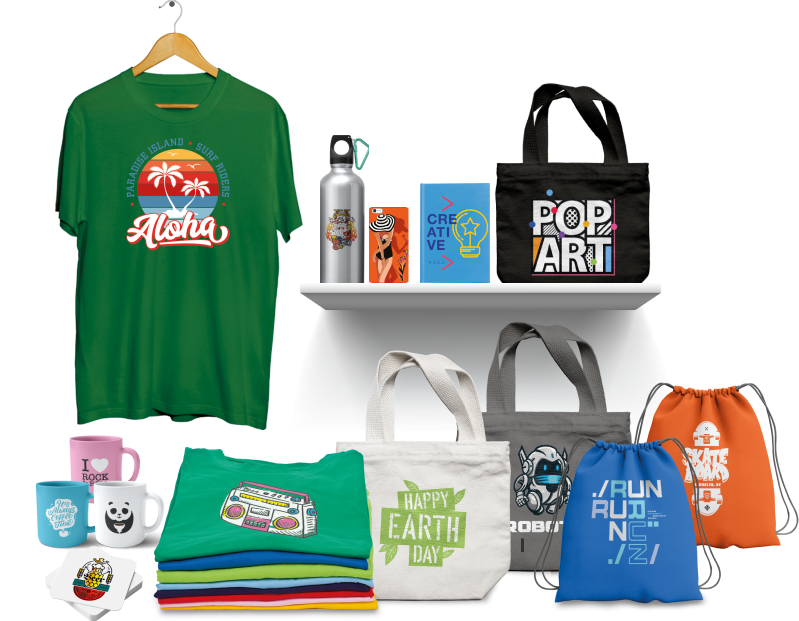 Soft Surfaces


Cotton

Canvas

Nylon

Leather

Polyester

Denim

Felt

Skin

(Temp. Tattoos)
Hard Surfaces


Acrylic

Glass

Enamel

Ceramic

Metal

Wood

and more!

Witness market leading white toner technology
Use white toner as a backing layer behind other colours to make any design stand out on even black or transparent surfaces.
Save time and money with the most compact A3 transfer printer
Print large high-quality designs for XL t-shirts and larger surfaces, or reduce media costs printing multiple small logos in one go onto A3 transfer paper.



Dry Process & Maintenance Free
Freedom with A3 CMY+K or White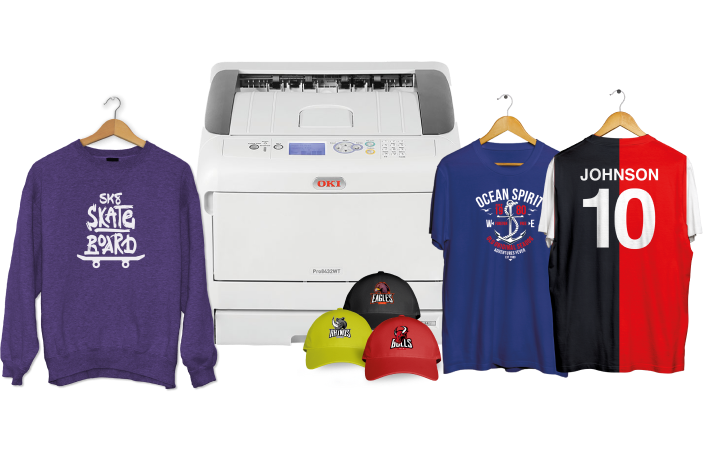 THE OKI PRO8432WT – ALL THE PERKS, NONE OF THE FUSS

The OKI Pro8432WT provides a cost-effective way to enter the lucrative transfer print market. Start fresh or expand your revenue streams through personalisation, merchandise, and more.

Last minute requests and low-volumes jobs are a nightmare for most transfer technologies, but with digital transfer printing even 1 unit on-demand is profitable.

Transfer to a variety of hard and soft surfaces in any colour. The OKI Pro8432WT is certified compatible with industry leading transfer media manufacturers.
Pure black or brilliant white

OKI's switchable toner technology enables pure black or white printing with complete flexibility of transfer surface colour.



High-quality in record time

Going digital means you can produce complex multi-colour designs and transfer them in minutes.

Save limited space with the most compact A3 transfer printer in the world.

Already have transfer printing solutions in place? Upgrade to A3 from A4 to reduce long-term costs and flexibility. Or complement screen printing equipment with a specialist short-run / multi-colour design alternative.

Love transfer printing but hate the mess? Unlike other technologies, LED digital transfer printing doesn't require daily cleaning or even daily use to run smoothly. It's compact, clean and easy to maintain!

There's no need to worry about specialist training, hit the ground running with the OKI Pro8432WT.

If you weren't convinced yet, we're confident enough to give you a 3 year warranty as a standard.
"There is no limit on the technology in terms of handling complex graphics. Thanks to OKI's technology, we can create and print intricate designs quickly and easily. The only limit is your imagination."
Paweł Gładysz, TT Magic
Please note, for information on specific media that should be used with OKI printers for the applications specified on this page, please contact your local certified dealer or contact us.
*Simply register your product within 30 days of purchase to be eligible for our unique all inclusive offer. For further information please visit: www.okieurope.com/warranty
Without registration, the standard pan-European 1 year warranty applies.